UPCOMING EVENTS:
It's Draw Down time!! Who is ready for a chance to Win $10,0000 dollars??
We are only selling 300 tickets and the go pretty fast! So please call to get your tickets before they are all gone!
October 19, 2018 @ the Club Westerner 6pm
For tickets call the club at (361) 573 – 4411
It's our 50th anniversary and we'd love for you to join us for an evening of food, drinks, music, and a chance to walk away with the $10,000 prize!
All proceeds benefit the Boys & Girls Club of Victoria
Please like and share this post to spread the word! Thank you for your continuing support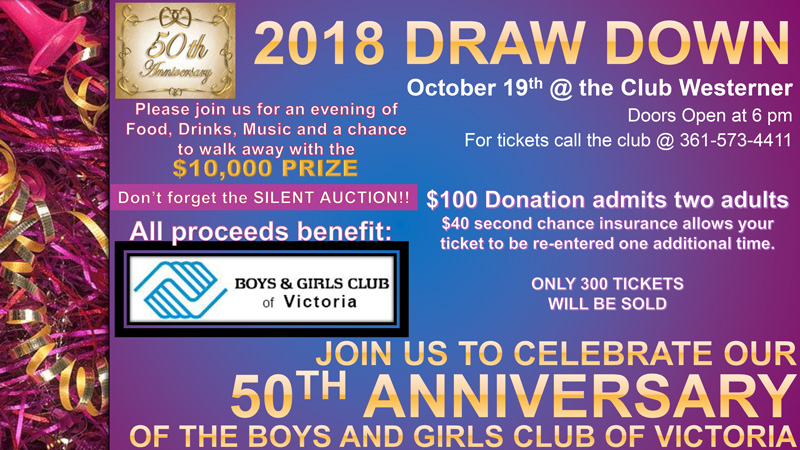 The Boys and Girls Club of Victoria, Texas has been providing services to our young people since 1968.
Programs offered at the Boys & Girls Club promote character and leadership development in a safe and nurturing environment In general, the "Club" offers our members safe refuge while their parents are still at work Research studies have proven that children engaged in positive after-school programs:
• Are less likely to use drugs, alcohol or engage in sexual activity
• Demonstrate improved standardized test scores
• Have better school attendance
• Accomplish better grades and levels of achievement in college
• In general, experience enhanced self-esteem
AFTER SCHOOL PROGRAM HOURS:
3:00 p.m. to 7:00 p.m. – Mon. to Thurs.
3:00 p.m. to 6:00 p.m. – Friday
OFFICE HOURS:
8:00 a.m. to 5:00 p.m. – Mon. to Fri.
In alignment with Victoria Independent School District, we follow the 2018-2019 VISD Academic Calendar and observe all school in-service days and holidays. The After School Program will close on these days.
The Mission of the Boys & Girls Club of Victoria is to provide programs that are based on a youth development strategy for young people between the ages of 6 through 18.

The Boys & Girls Club of Victoria is a charter member of the Boys & Girls Clubs of America. It is governed locally by an autonomous board of directors. Membership eligibility is not determined by income. Today more than 550 members participate in Boys & Girls Club-Victoria's programs.