The Boys and Girls Club of Victoria, Texas has been providing services to our young people since 1968.
Programs offered at the Boys & Girls Club promote character and leadership development in a safe and nurturing environment In general, the "Club" offers our members safe refuge while their parents are still at work Research studies have proven that children engaged in positive after-school programs:
• Are less likely to use drugs, alcohol or engage in sexual activity
• Demonstrate improved standardized test scores
• Have better school attendance
• Accomplish better grades and levels of achievement in college
• In general, experience enhanced self-esteem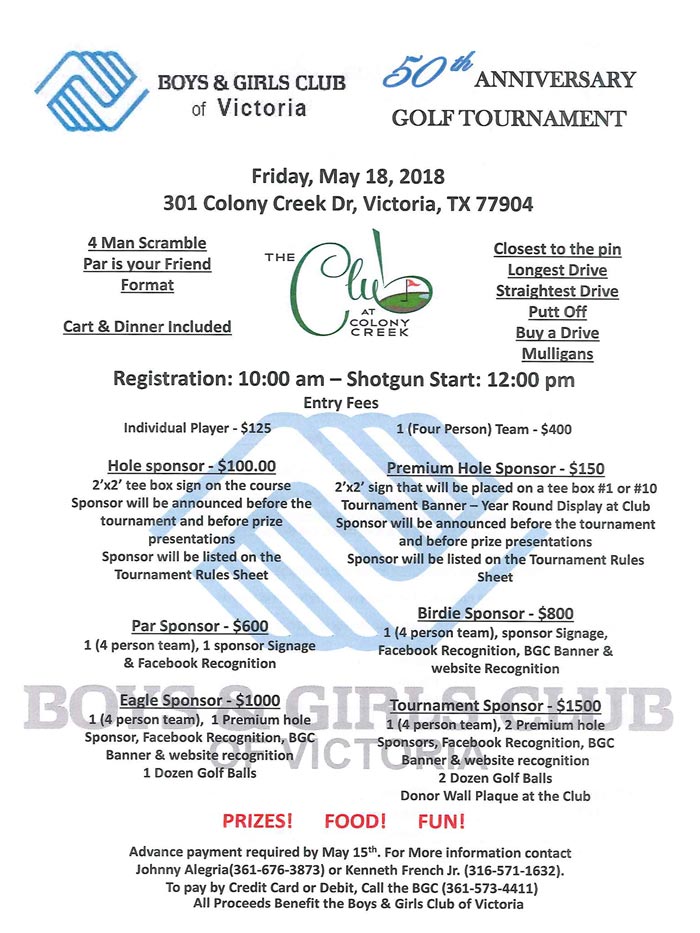 AFTER SCHOOL PROGRAM HOURS:
3:00 p.m. to 7:00 p.m. – Mon. to Thurs.
3:00 p.m. to 6:00 p.m. – Friday
OFFICE HOURS:
8:00 a.m. to 5:00 p.m. – Mon. to Fri.
In alignment with Victoria Independent School District, we follow the 2014-15 VISD Academic Calendar and observe all school in-service days and holidays. The After School Program will close on these days.
The Mission of the Boys & Girls Club of Victoria is to provide programs that are based on a youth development strategy for young people between the ages of 6 through 18.

The Boys & Girls Club of Victoria is a charter member of the Boys & Girls Clubs of America. It is governed locally by an autonomous board of directors. Membership eligibility is not determined by income. Today more than 550 members participate in Boys & Girls Club-Victoria's programs.